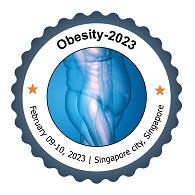 USD
For registration/tickets purchase:
https://obesity.conferenceseries.com/registration.php
Abstract Submission Deadline
Abstract guidelines
Terms
Abstracts must be submitted on the understanding that they have not been presented elsewhere (except in the form of a thesis) and are not currently under consideration by another conference. The submitting speaker should ensure that the abstract publication has been approved by all other co-authors.
Modes of Presentation
Oral presentation
Poster presentation
Language
All abstracts must be written exclusively in English (including the title, abstract text, author names and affiliations).
21st International Conference on Obesity Diet Management & Nutrition 2023 Singapore
We are glad to welcome all the participants from all over the world to attend "21st International Conference on Obesity, Diet Management & Nutrition" on May 25-26, 2023 at Singapore city, Singapore. A great platform for Basic Clinical Research Scientists & Students, Metabolic & Bariatric Surgeons, Physicians, Integrated Health Professionals, Registered Dieticians & Nutritionists, Diabetes Educators, Physical Therapists, Industry Professionals, Yoga & Fitness Professionals, Medical Colleges, Obesity &  Endocrinology Associations and Societies, Business Entrepreneurs, BMI Training Institutes, Health Promoters, Public Health Professionals, Pharmacists, Drugs & R & D Medical Devices Manufacturing Companies, poster presentations and young research forums